Posts for: August, 2013
Dental implants have become the standard of care to replace missing teeth in suitable patients. Although more and more patients are experiencing the implant process, most patients still don't fully understand implants and the overwhelming benefits they provide. Below are the answers to some of the most frequently asked questions on implants and why they are a good option for replacing missing teeth.
Q~ Why should I replace my missing teeth?
There are many reasons to replace missing teeth, even if the spaces don't bother you cosmetically. All the teeth in the mouth work as a team to provide an ideal chewing situation. If one of the members of the team is lost it can cause other teeth surrounding that open area to shift and drift causing your bite to change, difficulties in chewing and bone loss issues.
Q~ What exactly is a dental implant and what is the process?
A dental implant is a biocompatible titanium screw that is placed into the bone under general anesthesia by a specialist (oral surgeon or periodontist). The area is the allowed to heal as osseointegration occurs (integrating of the implant into the surrounding bone). After osseointegration has taken place, the implant is restored with an abutment and crown by your general dentist.
Q~ Do dental implants only replace single teeth?
No! Dental implants are utilized in many different situations including multiple missing teeth and even patients that are completely edentulous (missing all of their teeth). Dental implants can be placed as supports for a bridge (connected crowns) or as support for a denture.
Q~ What makes a patient "suitable" for implants?
A patient who wants to pursue implants must have an updated medical history filed with his or her general dentist and a current examination including x-rays. The patient also needs sufficient bone or gum tissue. The specialist will determine whether there is enough bone or gum tissue to place an implant or if a tissue/bone graft would be necessary. Adolescents may be suitable once facial structure has matured.
If you have any questions about implants or the implant process please feel free to call our office at (256) 772-5757.
By Madison Family Dentistry, PC
August 14, 2013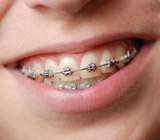 A beautiful smile has been proven to enhance your confidence and self-esteem. However, not everyone was born with the perfect smile. If you have an overbite, crowding of the teeth, too much space in between your teeth or missing teeth, then you may be a candidate for orthodontic treatment. With orthodontic treatments, teeth are moved into proper alignment by placing continuous, gentle forces in a carefully controlled direction with an orthodontic appliance.
Here are a few things you should know about malocclusions (bad bites) and orthodontics:
Causes. In many cases, bad bites are simply inherited. Malocclusions can also be caused by skeletal growth problems, and in these cases, early intervention with orthodontics can make a big difference. Acquired bite problems can be caused by trauma, thumb sucking and any premature loss of teeth.
Options. Nowadays, there are many different options available for those that require orthodontic treatment. In addition to traditional braces, which are applied to the front of the teeth, there are now braces that can be attached to the back of your teeth. Another popular option is clear orthodontic aligners, an alternative system to traditional braces that use a sequence of clear, removable and custom-fitted trays to gradually straighten your teeth.
Age. The American Association of Orthodontists recommends that children should be evaluated for orthodontic problems no later than age seven, as early detection and action helps to avoid more difficult treatment later in life. One out of every five orthodontic patients today is an adult, so remember that it is never too late.
Time. While treatment time will vary, you can expect it to range from one to three years, depending on the severity of the problem. However minor tooth movement may take as little as six months.
Maintenance. Remember that once your treatment has concluded, the work is not done. We will often recommend that you wear a retainer for a prescribed period of time to maintain your new, straight smile.
If you would like more information about orthodontics, please contact us or schedule an appointment for a consultation. You can also learn more by reading the Dear Doctor magazine article "The Magic of Orthodontics."
Contact Us
Dentist - Madison
72 Hughes Rd
Madison, AL 35758
(256) 772-5757
Archive:
Tags
Categories: